Storage manufacturer Semco has completed a major racking project for independent Derbyshire Timber Merchant, SV Timber.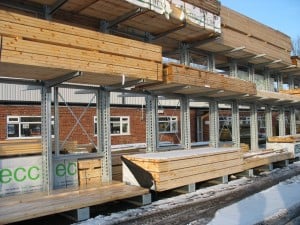 Following relocation to a much larger site – maximising the space wisely was absolutely key to their wide ranging product portfolio.
Their approach to Semco to design, manufacture and install external Cantilever racking and a bespoke internal Pigeon Hole Rack with a floor over was going to play a major role in offering a full range of timber products to their expanding customer base. Uniquely SV now offer an extensive timber range from sheet materials to sawn carcassing, as well as doors and windows both special and standard, through to machined softwoods and hardwoods. Therefore, a large internal Pigeon Hole Rack system to maximise the space efficiently and at the same time present and offer easy access to a wide range of timber was top priority.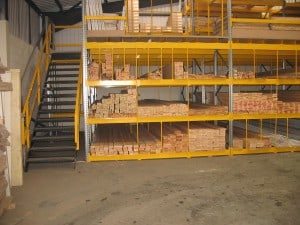 Semco fully project managed the racking design and installation to ensure that the tight opening deadline of the new site was met. The Pigeon Hole Rack incorporated 45 apertures at low level and was designed with a floor over, allowing the rear racks to extend to full height providing additional compartment storage on top of the floor for doors.
Ed Holder, managing Director remarked: "Semco's capability isn't just limited to Racking. The Pigeon Hole Rack is a very tidy piece of engineering combining floor joist, drop over gate and a staircase with landing."
He goes on to say:"Additionally their external Cantilever Racking for the front yard is the perfect product for our type of environment. So many Cantilever Racking systems claim adjustability and whilst they may, the wedge pin device inherent in the Semco Cantilever design allows very quick and safe adjustment of arm levels."
"We have been delighted with every aspect of Semco's service and they will be working with us again very shortly at another location."