BUILDERS MERCHANTS STORAGE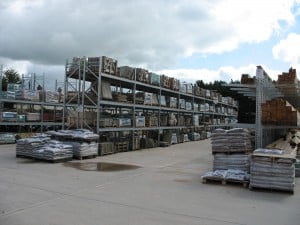 From the front of the shop right through to your warehouse and yard Semco fully understand that the main priority for a Builders Merchant is to ensure that your customers can locate what they are looking for as quickly, easily and safely as possible. Our Builders Merchants Storage Solutions provide a combination of flexibility and durability as well as a facility that presents merchandise well and improves stock rotation. These benefits automatically increase operational efficiency and customer satisfaction leading to improved sales and lower stock damage and obsolescence costs.
Builders Merchant Storage Solutions for your shop
Our Widespan Shelving can be integrated with a wide range of merchandising products to give a retail system flexibility whilst maintaining a 'trade' environment feel.
Builders Merchant Storage Solutions for your Warehouse and Yard
Typically the Warehouse and Yard contain a mixture of traditional building products such as Timber, Bricks, Plaster and Cement, Stillages and UPVC products for which Cantilever Racking and Pallet Racking storage systems provide an ideal solution.
In addition our range of Vertical Storage Racking is a flexible and alternative method for storing and displaying long lengths of Timber, Metal stud UPVC pipes whilst saving you valuable floor space.
Semco Cantilever Racking provides excellent storage and display of Timber Sections and Profiles, Carcassing, Steel and Concrete Lintels and all Panel Products.
The highly adaptable Pallet Racking system offers flexible and safe storage of Landscaping products, Panel Products and Steel Lintels.